As much as I love gooey chocolate desserts – more often than not, I tend to gravitate more towards lighter, sweet treats such as these Lemon Almond Tea Cookies.
This easy recipe was another discovery we found in my mother's old recipe box. On the recipe card, my mother wrote "1897" next to the Lemon Almond Tea Cookies name. Although I don't recall this being an old family recipe of ours, I suspect these delicate, chewy lemon-infused cookies are a classic recipe that my mom discovered in one of her magazines that she often read.  They are slightly spicy with ground cinnamon and ginger added to the batter, but also nutty and citrusy thanks to the addition of ground almonds and chopped, candied lemon peel.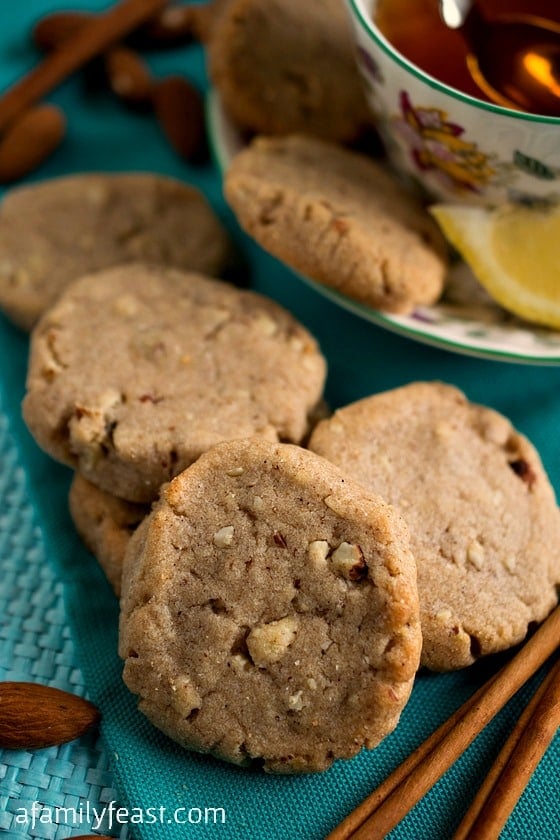 We made some minor modifications to the original Lemon Almond Tea Cookies recipe – adding a small amount of canola oil to make the dough more pliable, and we also made them a round shape rather than forming the cookies into a "C" shape.
I can picture these Lemon Almond Tea Cookies being served at afternoon tea back in the late 19th century – but they are just as appealing and delicious today served as a sweet snack with some milk!
I should also point out that this recipe made quite a large amount of cookies (6 dozen!) – so feel free to cut the recipe in half, or freeze the extras to enjoy at a later date.
Print
Lemon Almond Tea Cookies
Prep Time:

20 mins

Cook Time:

12 mins

Total Time:

32 minutes

Yield:

72 cookies
---
4 cups

all-purpose flour

2¼ cups

granulated sugar

1 cup

ground almonds (raw, skin-on coarsely ground in food processor)

2

sticks butter, softened

2

eggs

¼ cup

vegetable or canola oil

½ cup

candied lemon peel, minced (available in most supermarkets)

2 teaspoon

ground cinnamon

2 teaspoon

ground ginger

½ teaspoon

lemon extract
---
Instructions
Preheat oven to 375 degrees and place oven rack in highest possible position.
In the bowl of a stand mixer with paddle attachment, or by hand, blend flour, sugar and ground almonds until combined.
Add all other ingredients and mix to a stiff dough. (I switched to a dough hook because the batter is thick and heavy and I didn't want to burn out the motor)
Pour dough onto counter and divide into eight logs. Cut each log into three then each piece into three again yielding 72 pieces.
Roll each piece into a ball and press down to form a cookie about 2 ¼ inches in diameter and about 3/8th inch thick.
Line up two dozen per parchment lined cookie sheets (the cookies do not spread when baked) and bake one pan at a time for exactly 12 minutes. They will be blonde in color both on top and bottom. If you try to brown them, they get really hard once they cool. Twelve minutes yields a nice firm but chewy cookie.
---
You may also like:
Saigon Cinnamon Ginger Cookies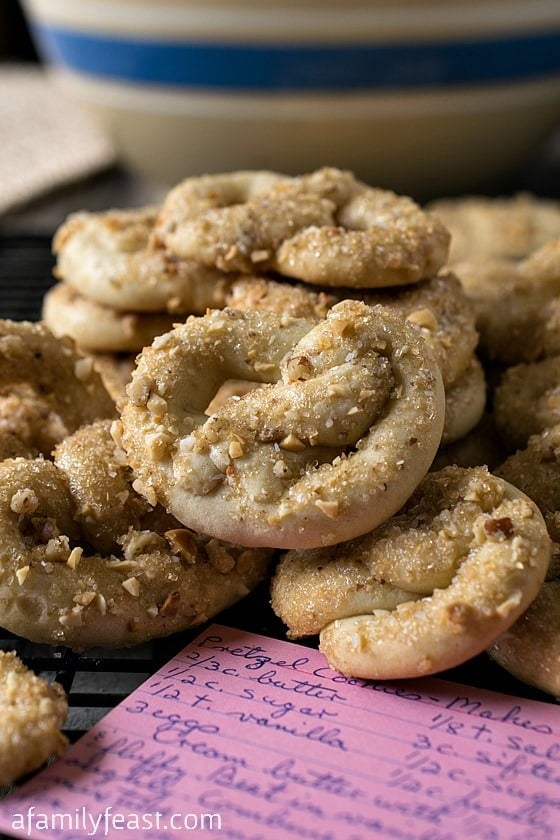 Flourless Peanut Butter Cookies with Sea Salt