Chocolate Toffee Biscotti are thin and crispy with sweet chocolate and toffee bits throughout, plus a sprinkle of cinnamon sugar on top.
Hi everyone – it's Jack. We're so lucky to live near a really great bakery called Hearth Artisan Bread.
Hearth started out making amazing artisan breads for home consumption, as well as for local restaurants and some retail locations. Over time, they branched out into other foods including pizza, bagels, and even cookies.
Earlier this summer, we ordered a pizza for dinner and on a whim, I picked up a package of their Chocolate Toffee Biscotti for dessert.  Our daughter liked the cookies more than the pizza (and the pizza is really good) – so of course, I had to try making our own.
Why are these SO good?
What makes these Chocolate Toffee Biscotti so good is the perfect balance of Heath Bar Crunch pieces (we bought this kind with milk chocolate) and small bits of dark chocolate nibs added to the batter. The dark chocolate perfectly complements the sweetness of the toffee.
Cinnamon is also added to the biscotti batter – another nice flavor combination with the toffee and chocolate. And, cinnamon is also mixed with granulated sugar and sprinkled on top of the biscotti after it bakes the second time through.
Like the version of Chocolate Toffee Biscotti sold at Hearth, we sliced our biscotti nice and thin before the second bake – about one quarter inch thick. This way, the biscotti crisps up and yields a firm but crunchy texture in every sweet and delicious bite.
Can I make this batter into thicker biscotti?
I don't see why not. But I think the thin, crunchy texture is part of what makes this Chocolate Toffee Biscotti recipe so good.
You may enjoy these other biscotti recipes:
Print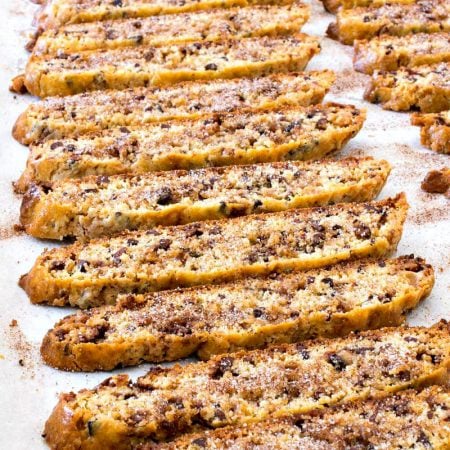 Chocolate Toffee Biscotti
Author:

Prep Time:

30 minutes

Cook Time:

45 minutes

Total Time:

1 hour 15 minutes

Yield:

52 cookies

Category:

dessert

Method:

baking

Cuisine:

Italian
---
2 cups all-purpose flour
1 cup granulated sugar
1 teaspoon baking powder
¼ teaspoon salt
½ teaspoon ground cinnamon
4 tablespoons cold butter cut up into pieces
1 ½ cups Heath Bar Toffee Bits with Milk Chocolate
½ cup dark chocolate nibs*
1 teaspoon vanilla extract
3 large eggs, beaten with one tablespoon withheld to brush bar tops
2 tablespoons granulated sugar
2 teaspoons ground cinnamon
---
Instructions
Preheat oven to 350 degrees F with rack in upper third of oven.
In a large bowl, whisk flour, sugar, baking powder, salt and the ½ teaspoon of cinnamon together.
Use a pastry cutter or two knives and cut the cold butter in until the butter is rice size.
Fold in the Heath bits, chocolate nibs and vanilla.
Beat the eggs and reserve one tablespoon. Add the rest to the bowl and fold with a sturdy spatula or wooden spoon to form a dough.
Flour your counter and pour out the dough and cut in half.
Form each half into a log 12" long and 2" wide.
Place each log onto one parchment lined sheet tray and brush tops and sides with the reserved beaten egg.
Bake 25 minutes then cool for ten minutes.
Transfer to your cutting board and cut each log on the diagonal into about 26 slices, one quarter inch thick.
Carefully flip each piece on its side and lay out next to each other on two parchment lined sheet trays. I used the side of my long-serrated knife to lift them one at a time from the cutting board to the sheet pan so they wouldn't crumble.
Mix the cinnamon and sugar in a small bowl.
Spray the tops lightly with kitchen pan spray and sprinkle on all of the cinnamon sugar. (just on the side facing up)
Bake for 15 minutes, rotating the two pans between racks half way through, if baking both at once.
As the biscotti cool, they will crisp up.
Enjoy immediately or freeze in a sealed zip lock bag.
---
Notes
*Chocolate nibs are bits and pieces of dark chocolate. You could also use mini dark chocolate chips but give them a chop on your cutting board so the pieces are very small.
Keywords: Chocolate Toffee Biscotti