This Asian Chicken Soup is easy to make and full of healthy, delicious ingredients!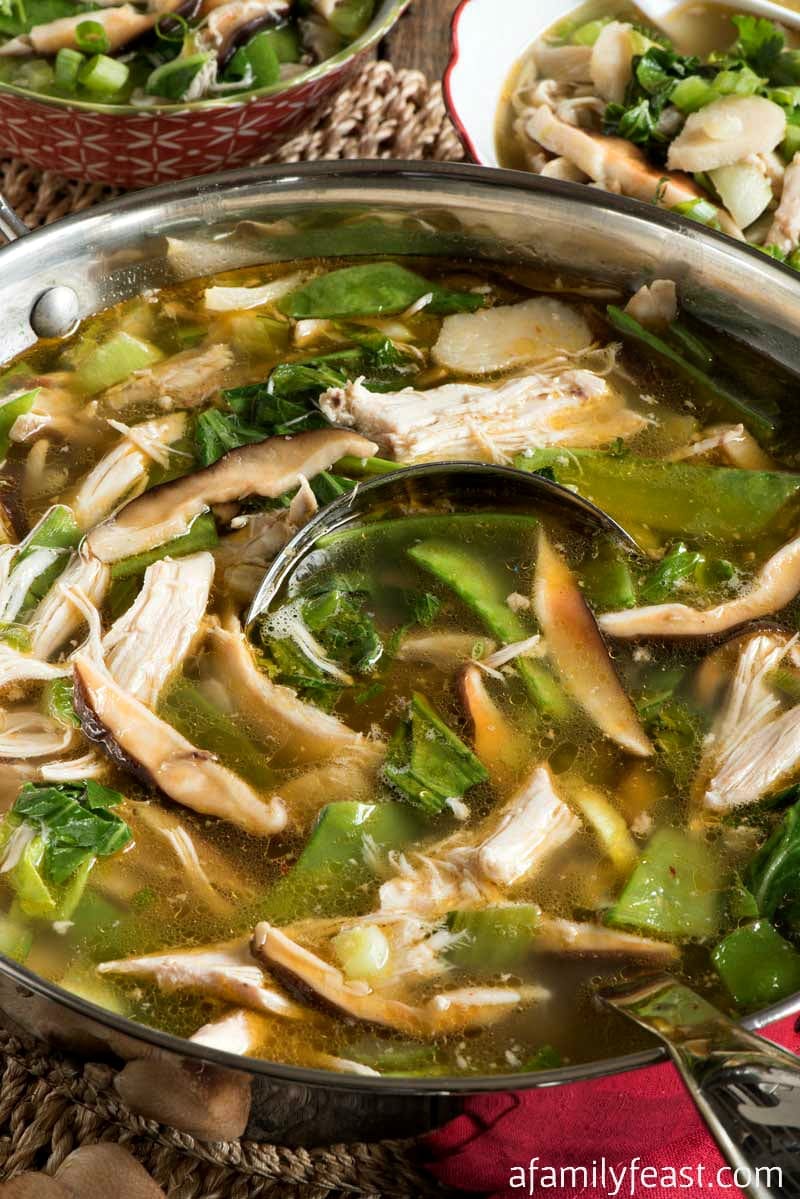 The aroma of certain foods cooking in the kitchen can often evoke a strong response – and for me, chicken soup does it every time! Our home always feels 'more homey' when a big pot of chicken soup is simmering on the stove.
While a classic chicken noodle soup definitely hits the spot – today's Asian Chicken Soup is just as good – and it's a nice, healthy change of pace!
The stock in this Asian Chicken Soup is infused with fantastic flavor from fresh ginger, scallions, and cilantro. Those ingredients are added to the pot along with a whole chicken and some additional chicken wings for more flavor, plus water, pre-made chicken broth, celery, whole black peppercorns, and kosher salt.
It takes about two hours for the pot of stock to simmer away and reduce (filling your house with that glorious aroma!) and allowing the flavors to intensity. Then, you'll drain the stock – removing the solids and shredding the cooked chicken to add to the finished Asian Chicken Soup.
While your Asian-inspired chicken stock cooks, start prepping the other ingredients to add to the soup: baby Bok choy bottoms, more scallions, shiitake mushrooms, and some garlic chili sauce. These ingredients are all lightly sautéed before adding them to the reduced chicken stock, along with soy sauce, water chestnuts, snow peas, and the tops of the baby Bok choy.
Once spooned into a bowl, top your Asian Chicken Soup with more chopped cilantro, scallion tops, and fresh mint.
And – although we didn't include noodles in our own recipe today – bean thread or cellophane noodles would be a great addition if you'd like to go that route.
Print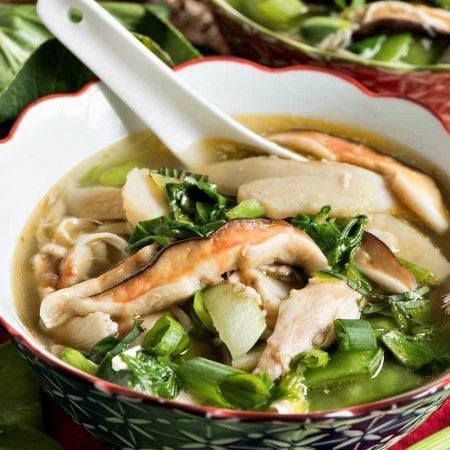 Asian Chicken Soup
Prep Time:

30 minutes

Cook Time:

2 hours 30 minutes

Total Time:

3 hours

Yield:

8-10 servings
---
Stock
1 whole frying chicken with neck, about 5 pounds
8 chicken wings or one turkey wing
2 teaspoons kosher salt
3 ounces' fresh ginger, peeled and sliced into quarter inch slices (about ½ cup)
1 bunch scallions cut into thirds
12 sprigs cilantro (including stems)
1 ½ teaspoons black peppercorns whole
1 celery stalk cut into quarters
1 quart store bought chicken stock, or home made if you have it
6 quarts' water
Soup
1 tablespoon peanut oil
1 pound baby Bok choy (see note)
1 bunch scallions, bottoms and tops separated and each sliced
7 ounces' shiitake mushrooms, stems removed and discarded and caps sliced
1 teaspoon garlic chili sauce (or more if you like it spicy)
4 quarts of stock from above
2 tablespoons soy sauce
8 ounces' snow peas trimmed and cut in half
1 5-ounce can water chestnuts drained and sliced
2 pounds' chicken meat from above
Garnish
¼ cup cilantro leaves coarsely chopped
Scallion tops sliced
2 tablespoons fresh mint, chopped
---
Instructions
Place chicken and all stock ingredients in a medium to large pot and bring to a boil. Lower to a fast simmer and simmer for two hours uncovered.
Remove chicken and wings and discard remaining solids. There should be four quarts (one gallon) of stock left. If more, cook down to four quarts. If less, add a little water to equal four quarts.
Separate skin and bones from meat and shred meat with two forks. Set aside and discard skin and bones.
Note: Clean baby Bok choy of any sand and separate the whites from the tops. Chop the tops and set aside. Remove core from bottoms and discard. Cut the bunch in half the long way then each half in half and slice into pieces. Set aside.
In a large heavy bottomed pot or Dutch oven, heat peanut oil over medium high heat.
Add Bok choy bottoms, scallion bottoms, mushrooms and garlic chili sauce. Sauté for three minutes.
Add stock, soy sauce, snow peas, water chestnuts and chopped Bok choy tops.
Cook for two minutes.
Add chicken meat, bring back to serving temperature and serve.
Serve topped with scallion tops, cilantro and mint.
---
Disclosure: This post contains affiliate links.


You may also like:
Chicken Noodle Soup (aka New York Penicillin)