Make up a batch of these hearty Individual Beef Pot Pies, and bake right away or freeze to eat later! This is a delicious time-saving recipe!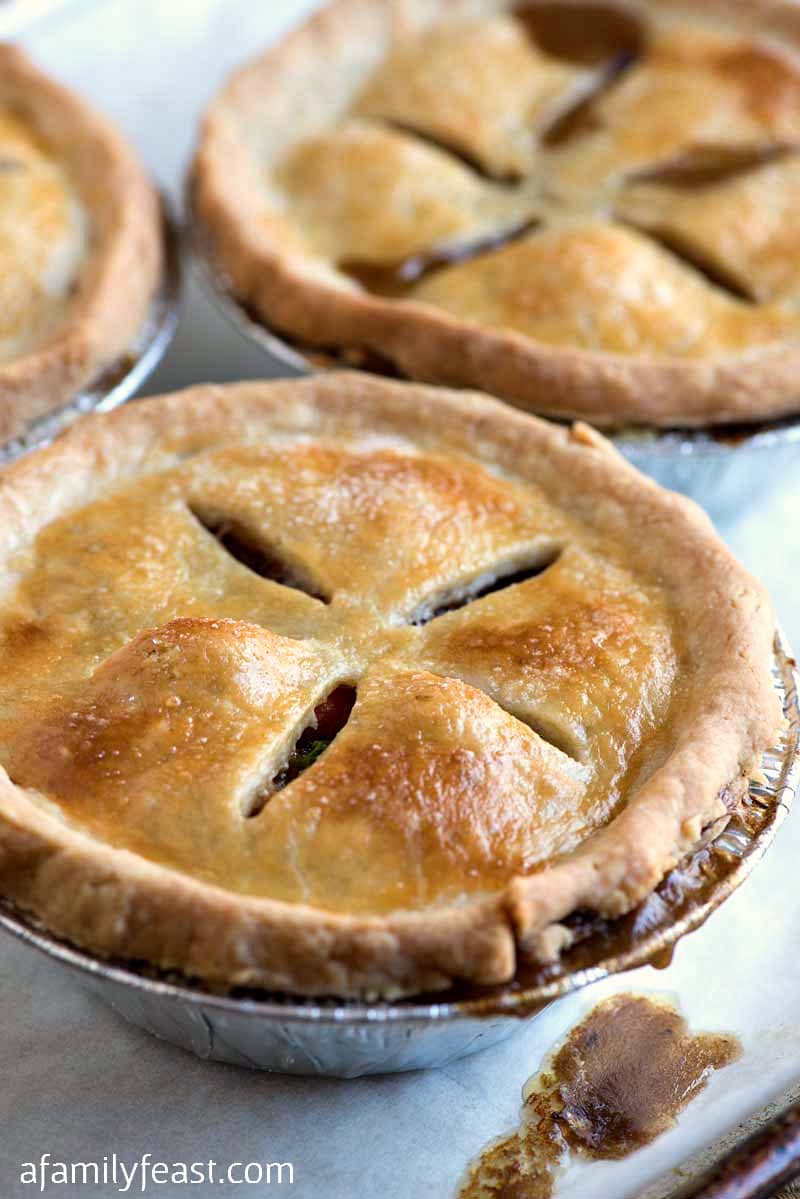 These Individual Beef Pot Pies are sponsored by Peapod as part of our ongoing ambassadorship with the brand.  All opinions are 100% mine.
March is National Frozen Food Month and what better way to celebrate than with these delicious Individual Beef Pot Pies. Assemble a batch of these hearty little pies – then wrap them up and freeze to heat and serve later.
These Individual Beef Pot Pies are perfect for those nights when you need to put dinner on the table but don't have the time or energy to cook – simply pull the pot pies out of the freezer, bake in the oven until hot and bubbly inside and golden brown on top, then serve.
Our Individual Beef Pot Pies are 100% homemade! A tender, flaky crust is pre-baked in individual pie tins, then filled with the most delicious beef pot pie filling made with chunks of beef chuck roast, carrots, peas, potatoes and parsnip in a thick and flavorful gravy.
After covering the beef pot pie with the top crust – you can either bake right away or freeze to eat later. (Note: If you want to save even more time making your Individual Beef Pot Pies, you can use a pre-made, refrigerated pie crust instead.)
We ordered all of the ingredients to make our Individual Beef Pot Pies on Peapod.com.  Peapod's grocery delivery service is another huge time saver for busy families.
Print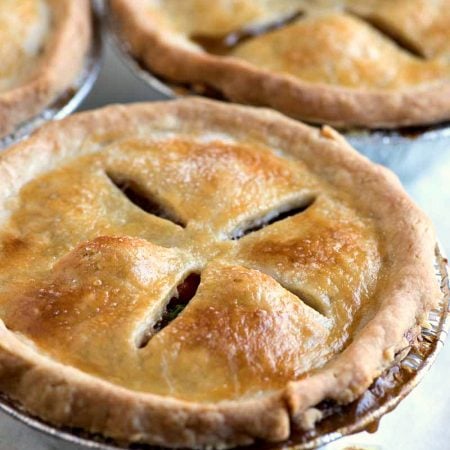 Individual Beef Pot Pies
Author:

Prep Time:

1 hour 30 minutes

Cook Time:

3 hours 30 minutes

Total Time:

5 hours

Yield:

9 pies

Category:

entree

Method:

baking
---
Description
Note: For this recipe, we bought a whole chuck roast and trimmed the fat and gristle to render down and used to sear the meat. Alternatively, you could buy three pounds of chuck stew meat and then you would sear in the optional butter and oil listed in the ingredients. (We highly recommend rendering your own fat from the beef for a fantastic deep rich flavor.)
Also, note: We used 12-ounce aluminum pie tins which are freezer safe. Feel free, however, to use any 12-ounce ramekins or mini pie plates if you don't plan to freeze the pot pies.
---
Filling
4 ¼ pounds chuck roast
1 cup all-purpose flour
2 ½ teaspoons kosher salt, divided
1 ½ teaspoons freshly ground black pepper, divided
Optional ¼ cup butter, see note in instructions
Optional ¼ cup extra virgin olive oil, see note in instructions
2 teaspoons dry thyme leaves
1 tablespoon chopped garlic
2 cups onion, coarsely chopped
1 cup sliced celery
4 quarts beef stock or broth
2 cups carrots, cut into ½ inch dice
1 pound bag parsnips, cut into ½ inch dice
1 ½ pounds new red potatoes, peeled and cut into 1 inch dice
¼ cup extra virgin olive oil
2 cups frozen green peas, thawed
Crust
7 ½ cups all-purpose flour, divided
1/3 cup granulated sugar plus one teaspoon, divided
1 tablespoon kosher salt, divided
3 sticks (1 ½ cups) cold unsalted butter, cut into pats, divided
1 ½ cups vegetable shortening, cut into pieces and frozen, divided
1 ½ cups buttermilk, divided
1 egg
---
Instructions
Trim the roast and cut the pieces of beef into 3 inch pieces. Set aside.
In a large skillet or sauté pan, over medium high heat, place all trimmed fat, gristle and scraps from your roast and cook until all fat is rendered out. You should have about one cup of fat. Discard solids and scraps. (Alternatively – if you are cooking chuck stew meat as noted above, place optional butter and oil in sauté pan.)
In a large bowl place flour, 1 ½ teaspoons of the salt, and ½ teaspoon of the pepper.
Stir to mix and add the beef and toss. Remove the beef pieces shaking as you go but do not discard the flour. That will be used later.
Place a 6-quart Dutch oven on the stove standing by.
Reheat the skillet of fat (from step 2) over medium high heat. Place some of the beef pieces in the hot fat, not overcrowding the pan. Then sear for four minutes on each side, turning with tongs as you go. Once each side has browned, remove to the Dutch oven.
Once all of the beef has seared, lower the heat in the skillet to medium low. There should be about ¼ cup of the fat left, if not, add a little more butter. Then add the flour that you tossed the beef in to form a roux. Cook this on medium low for about three minutes until the raw flour smell is gone and set aside to be used at the end of this recipe.
Add the thyme, garlic, onion, celery and the beef broth to the Dutch oven with the beef and bring to a boil. Lower to a medium simmer and simmer uncovered for 2 ½ hours. During the last 45 minutes, stir occasionally to make sure it doesn't stick to the bottom and if too much liquid has evaporated, add a little water but keep the cooking time at 2 ½ hours.
While the beef is cooking, preheat your oven to 450 degrees F.
On one sheet pan, lay out the carrots and parsnips. On a second, layout the potatoes.
Divide the quarter cup of olive oil between them and sprinkle each with the remaining salt and pepper.
Roast for 25 minutes, turning pans half way through cooking. The vegetables will be slightly undercooked but will finish cooking later in the finished pies. Set aside.
Prepare the Crust
While the beef and vegetables are cooking, prepare the crust. Note that the total amount of crust ingredients will not fit into a food processor in one batch, so we suggest making the bottom and top crusts as two separate batches. (Alternately, you could mix the entire crust mixture by hand but it is easier in the food processor.)
To make the bottom crust dough, add the 3 ¾ cups flour, 2 ½ tablespoons sugar, and ½ tablespoon salt to the food processor. Pulse to combine.
Add half of the cold butter pieces (3/4 cup) and half of the frozen shortening pieces (3/4 cup) and pulse to combine but stop processing once you have pea-sized pieces.
Add ¼ cup of the buttermilk, pulse a few times, add another ¼ cup and pulse again. Then add up to another ¼ cup of buttermilk to form a crumbly dough, but when squeezed in your palm, stays together. Form the dough into a disc and wrap in plastic and refrigerate for at least one hour.
Repeat steps 14-16 for the top crust dough and refrigerate.
Once the beef has cooked for 2½ hours, check the thickness of the sauce and use some or all of the roux you made earlier by adding a little at a time while heating over medium heat until the mixture is thick. As you stir, the big pieces of beef will break up some, which is what you want.
Once your gravy is thickened, add the reserved roasted vegetable and thawed peas and stir one last time to combine. Remove the Dutch oven from the heat.
Preheat oven to 375 degrees F.
Roll out the bottom crust dough on a well-floured surface. The size should be about 28×40" if you are using the 12-ounce pie tins (they are approximately 6" in diameter).
Using a bowl or cutter that is 2" wider than your pie tin or dish, cut out nine circles of dough that are 8" in diameter. Place the dough circles into each pie tin, pressing into the bottom and sides up to the rim. Trim any excess using a sharp knife around the outer edge.
Line each pie crust with parchment paper (it helps to cut the parchment into a circle as well and cut slits around the outer edge so that the paper sits in the bowl shape). Fill parchment liner with dry beans or pie weights.
Place a baking rack on a sheet pan, then place each pie crust on the rack. Bake the crust for 20 minutes. Remove pie weights and paper and bake for another five minutes to brown the inside.
Set baked pie crusts aside to cool for ten minutes.
Once cool, spoon the beef filling into the baked pie tins.
Now roll out the remaining dough (it can be slightly smaller than the first one) and using a round bowl 1" wider than your pie tins, cut out nine 7" circles.
Place each top crust circle over one pie. Fold the edges under and crimp to make a decorative edge.
The using a sharp paring knife make five slits in a star pattern into each top.
At this point, the pot pies can be frozen or baked.
If frozen, freeze uncovered overnight, then wrap each pot pie in foil or plastic wrap to seal out air and keep frozen until needed. To bake frozen, preheat the oven to 375 degrees F. Unwrap frozen pot pies and place on a parchment lined baking sheet. Beat the egg and brush each pie top but not the edges and sprinkle a teaspoon of sugar over the top. Bake for approximately 1 hour or until golden and bubbly.
If baking now, keep the oven preheated to 375 degrees F. Beat the egg and brush each top but not the edges. Sprinkle the teaspoon of sugar on each one and place on parchment lined sheet pans and bake for 45 minutes or until golden and bubbly.
---
Keywords: beef, freezer meal, pot pie