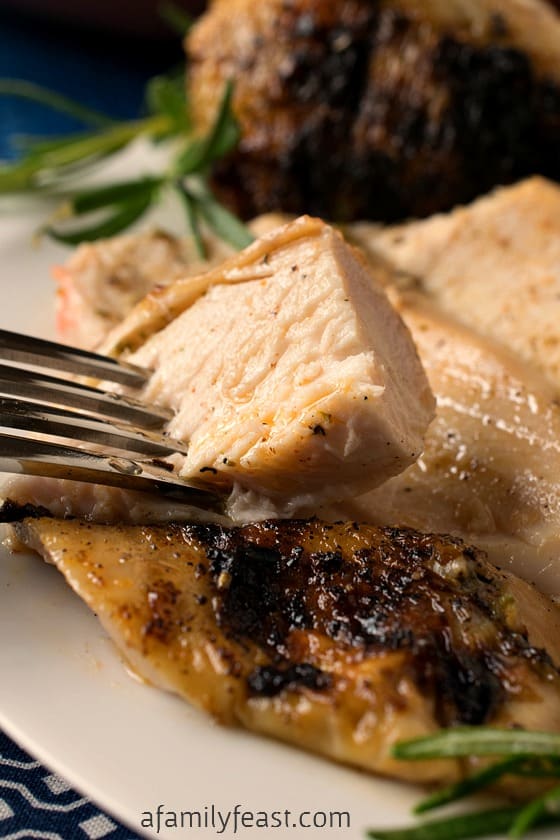 Get ready to enjoy some of the juiciest, most flavorful chicken you'll ever eat – our Roasted Chicken with Rosemary Compound Butter!
Yesterday we shared a recipe for rosemary compound butter – a simple mix of softened butter combined with chopped rosemary and shallots.  That butter is one of the secrets to to this delicious, succulent roasted chicken!
After brining, coating and searing some skin-on, bone-in chicken pieces, we placed a slice of the rosemary compound butter under the skin of the chicken before fully roasting it.
The chicken comes out tender and juicy, and the skin gets extra crispy. And, the compound butter adds a punch of herbaceous flavor to this roast chicken that is absolutely incredible!
Using compound butter while roasting meats and poultry is a common practice in professional food service kitchens – and it's an easy method to use at home as well! You can also change up the flavors in your roast chicken by swapping in other herbs in your compound butter.
Print
Roasted Chicken with Rosemary Compound Butter
Prep Time:

20 mins

Cook Time:

1 hour

Total Time:

1 hour 20 minutes

Yield:

6-8 servings
---
Description
Note: Although we brined the chicken before roasting to make it juicier, you can skip those steps if you are pressed for time.
---
Brine
2 quarts

water

½ cup

kosher salt

½ cup

granulated sugar

2

large sprigs fresh rosemary left on stems

5

peppercorns

2 quarts

ice water

5

pounds bone-in skin-on chicken pieces (we used chicken halves)
Spice Blend
½ teaspoon

kosher salt

½ teaspoon

freshly ground black pepper

½ teaspoon

dry ground rosemary

½ teaspoon

paprika

½ teaspoon

garlic powder
Other
---
Instructions
If brining – the day before, bring water, salt, sugar, rosemary and peppercorns to a boil in a large pot and boil 10 minutes.
Remove from heat and add the 2 quarts of ice water. Refrigerate until liquid is below 40 degrees F.
Place chicken pieces in zipper seal gallon-sized bags (2-3 bags).
Divide brine between bags. Place bags of sealed, brined chicken back into pot you used to make brine and place in refrigerator overnight. (You can use anything to hold the plastic bags but we used the pot that was used to make the brine in as it was the perfect size to hold all of the chicken).
The next day, about 90 minutes before serving, drain and discard brine.
If you chose not to brine, start here.
Line a sheet tray with foil and place chicken on the pan. Pat both sides dry with paper towels. Run your fingers under the skin to loosen it from the flesh but still leave it attached on the sides and ends.
Mix spice blend by combining salt, pepper, rosemary, paprika and garlic powder.
Brush the skin side of the chicken with the oil and sprinkle the spice blend over the tops.
Heat a ribbed grill pan over medium high to very hot heat. In batches, sear chicken pieces on both sides to brown skin and give char marks. Remove to sheet pan.
Preheat oven to 350 degrees F.
Let chicken cool slightly until it is cool enough to touch.
Lift the skin that you loosened earlier and slide rosemary compound butter coins under skin, pushing to edges under skin.
Place pan in oven and cook for 40-50 minutes or until fully cooked.
Serve immediately with a little of the pan drippings brushed over the tops.
---
You may also like:
Grilled Basic Garlic Chicken Breasts