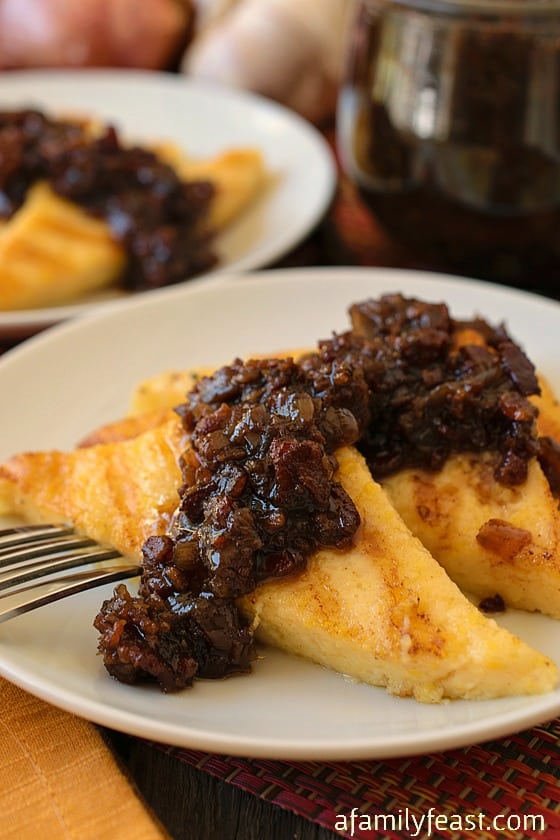 This post is sponsored by Jones Dairy Farm. All opinions are 100% mine (as well as Jack's).
When it comes to food, anytime my husband Jack declares that something is "the best" he's ever had – I take notice because he doesn't say something like that very often. With his years of professional experience in the food service industry, where Jack managed numerous kitchens and purchased the ingredients to prepare the food that his staff served, he developed an eye (and a taste) for excellent quality foods.
So the other day as we started to develop this recipe – this fantastic Grilled Polenta with Bacon Jam – it was our first time cooking with Jones Dairy Farm's Cherrywood Smoked Bacon. We've been fans of Jones' other products for some time, but we never had this particular bacon before.
That day, I overheard Jack talking to himself in the kitchen saying, "Oh my God…" – and I knew he was on to something delicious! According to Jack, this Jones Dairy Farm Cherrywood Smoked Bacon is THE BEST bacon he's ever had! And I have to agree – especially when it's been made into this fantastic bacon jam served over creamy, cheesy grilled polenta.
The delicious smoky flavor of the thick slab, dry-aged bacon is balanced in our jam with a mix of sautéed onions and shallots, garlic, brown sugar, and two kinds of vinegar – but we've given it even more wonderful, deeper flavor thanks to the addition of coffee, bourbon and other spices and seasonings. And we've served it over slices of wonderfully, creamy polenta that have been grilled until warm and lightly golden brown.
This seriously-good dish is great as an appetizer, or as a light but very satisfying meal served alongside a salad or some soup.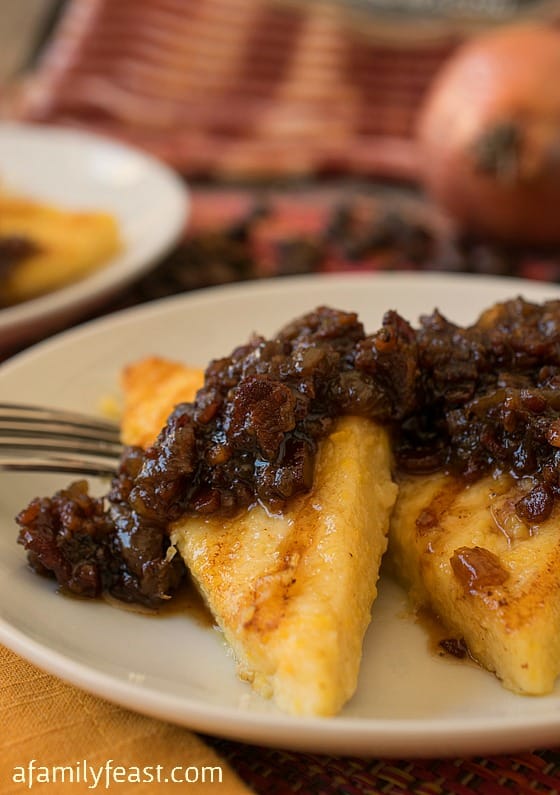 We're so happy to be partnering with Jones Dairy Farm to bring you another delicious recipe featuring their natural and wholesome products!  To learn more about Jones Dairy Farm, just visit their website. Or follow them on Facebook, Twitter, Pinterest and Instagram.
Print
Grilled Polenta with Bacon Jam
Prep Time:

20 mins

Cook Time:

30 mins

Total Time:

50 minutes

Yield:

4-6 servings
---
Description
This recipe will make about 3 to 4 cups of jam. You will have leftover jam after serving with the polenta. Keep refrigerated for up to a week or freeze in zipper seal bags for up to six months.
---
For the Bacon Jam
1 ½

pounds Jones Dairy Farm Cherrywood Smoked Bacon, diced

2 cups

Vidalia onions sliced

1 cup

red onion, sliced

½ cup

shallots, sliced

2 tablespoons

garlic, chopped

½ cup

brown sugar

¼ cup

agave nectar or honey

¾ cup

very strong brewed coffee

¼ cup

cider vinegar

½ cup

balsamic vinegar

¼ cup

bourbon whiskey

1 teaspoon

Worcestershire sauce

¼ teaspoon

Sriracha or other hot sauce

½ teaspoon

freshly ground black pepper

1 teaspoon

Coleman's dry mustard

¼ teaspoon

freshly ground nutmeg

½ teaspoon

salt
For the Polenta
1 ½ cups

vegetable or chicken broth

1 ½ cups

heavy cream

½ teaspoon

freshly ground nutmeg

¾ teaspoon

Kosher salt
Pinch of white pepper

½ cup

semolina flour

½ cup

polenta, (also known as corn grits – do not use instant polenta)

¼ cup

shredded Fontina cheese

¼ cup

freshly grated Parmesan cheese

2 tablespoons

butter, used to grill the polenta
---
Instructions
To make the Bacon Jam
In a medium pot over medium high heat, render diced bacon until crisp and remove with a spider strainer (see here) or slotted spoon. Pour out bacon fat and reserve ¼ cup in the pan. (This Jones Cherrywood Smoked Bacon is so lean, there will only be ½ cup of bacon fat left in the pan, which you will use half of for the next step).
Over medium heat add both onions, shallots and garlic and cook for three minutes.
Add cooked bacon back in along with all other jam ingredients. Bring to a simmer and cook to reduce liquid to a syrupy consistency, about 25 minutes.
Cool for five minutes and pour into a food processor. Pulse 6 times to just break up ingredients. Mixture will be coarse.
While bacon jam is simmering, make polenta.
To Make the Polenta
In a medium sauce pan, heat stock and cream to just boiling. Add spices, semolina and polenta and whisk to incorporate ingredients. Cook over a simmer for six minutes. Mixture will be thick so stir occasionally with a wooden spoon.
Remove from heat and stir in both cheeses.
Line a shallow quarter sheet pan (like this one) (or other pan that is approximately 9×13") with plastic wrap letting wrap flow over edges of pan.
Pour polenta into plastic lined pan and spread evenly using an offset spatula.
Cover with plastic and refrigerate at least 30 minutes until cool and firm.
When ready to serve, remove polenta from pan by lifting with the plastic and place on cutting board. Cut polenta into about 16-20 pieces (squares or triangles). Heat a grill pan (ribbed or not, your choice) and melt butter and place polenta smooth side down and grill just to heat and brown bottom. Grill both sides or just one side, your choice.
Heat jam to at least room temperature or warmer in a pan or microwave.
Place two to four pieces of grilled polenta on a small plate and top with a few spoons of jam and serve.
---
Disclosure: This post contains affiliate links.
You may also like this other recipe featuring Jones Dairy Farm products:
Smoked Ham with Butternut Squash over Noodles