We developed this recipe for Grilled Kielbasa Rolls with White Barbecue Sauce as part of a sponsored post for KING'S HAWAIIAN. All opinions are 100% mine.
Memorial Day is just around the corner and we've already started planning some fun activities for the long weekend coming up.
We've got our first "Fire Pit Night" of the season planned for next weekend.  It's an evening where our good friends from the neighborhood come over to our house with their kids. We grill up some delicious foods, mix up some thirst-quenching drinks, and roast marshmallows for dessert!  And while the kids play 'hide and seek' and 'zombie' and run around the yard after dark, the parents sit around the fire pit and enjoy more than a few laughs!
It will probably come as no surprise when I tell you that our friends are all foodies too, and they love a great meal!  Jack and I think they will love these delicious Grilled Kielbasa Rolls!
These Grilled Kielbasa Rolls with White Barbecue Sauce are actually a super simple recipe to make – but they pack some fantastic flavor!  Grilled Polska kielbasa, sautéed onions and sauerkraut, swiss cheese, and a zesty, homemade Southern white barbecue sauce all get piled into a KING'S HAWAIIAN® Hot Dog Roll!
KING'S HAWAIIAN® is helping you #MakeSummerSweet and (extra delicious) with their KING'S HAWAIIAN® Hot Dog Rolls and Hamburger Buns.  Their rolls and buns have the same soft, sweet flavor of the classic KING'S HAWAIIAN® Sweet Dinner Rolls.
I found my KING'S HAWAIIAN® at Target. Just look for the bright orange KING'S HAWAIIAN® display in their produce section of the grocery aisles and you'll easily spot the KING'S HAWAIIAN® Hot Dog Rolls and Hamburger Buns.
I was also able to buy all of the other ingredients I needed to make these Grilled Kielbasa Rolls with White Barbecue Sauce at Target – plus other supplies I need for our weekend party. (Gotta love the one-stop shopping convenience from Target!)
Our Grilled Kielbasa Rolls with White Barbecue Sauce recipe is below, and for more information about KING'S HAWAIIAN® Hot Dog Rolls and Hamburger Buns and their other delicious products, visit KING'S HAWAIIAN® online, or on Facebook, Twitter or Instagram.  Enjoy!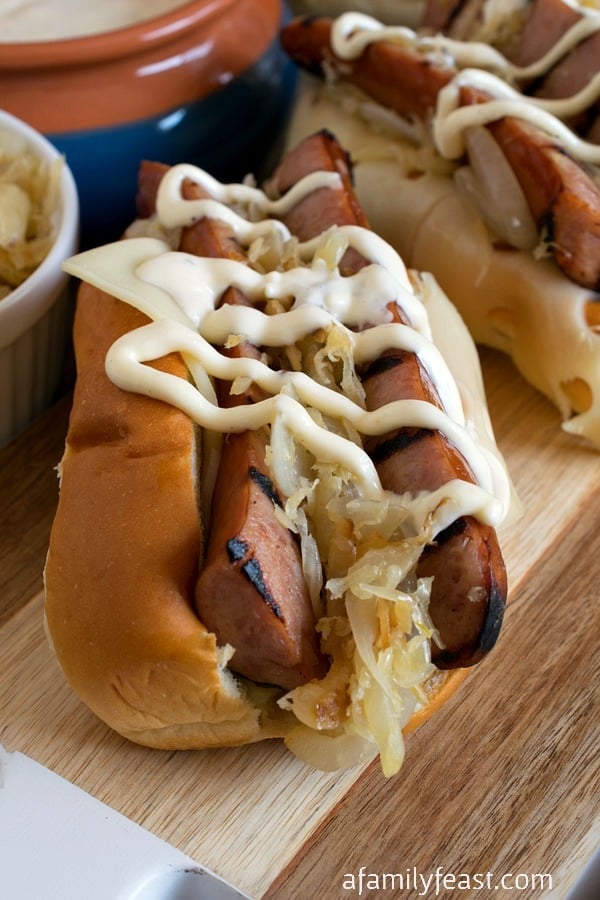 Print
Grilled Kielbasa Rolls with White Barbecue Sauce
Prep Time:

10 mins

Cook Time:

15 mins

Total Time:

25 minutes

Yield:

8 servings
---
White BBQ Sauce
1 1/2 cups

mayonnaise

1/4 cup

white wine vinegar

1 tablespoon

coarsely ground black pepper

1 tablespoon

whole grain mustard

1 teaspoon

salt

1 teaspoon

sugar

2

garlic cloves, finely minced (about

1 tablespoon

)

2 teaspoons

prepared horseradish
Onions & Sauerkraut Topping
4 tablespoons

olive oil, divided

8 ounces

onion, sliced thick

1

14-ounce can sauerkraut, drained and squeezed dry
Pinch of kosher salt and pepper
Other Ingredients
3

14-ounce packages Polish Kielbasa

7 ounce

package sliced Swiss cheese

1

12-ounce package KING'S HAWAIIAN® Hot Dog Rolls (

8

rolls)
---
Instructions
Make the White Barbecue Sauce by placing mayonnaise, vinegar, black pepper, mustard, salt, sugar, garlic and horseradish in a medium bowl. Stir until well blended. Chill in refrigerator until ready to use.
In a medium sauté pan, heat two tablespoons of olive oil over medium high and sauté onions for about four minutes or until soft.
Add one more tablespoon of oil and pour in drained sauerkraut.
Sauté for three minutes or until the sauerkraut starts to brown.
Season with salt and pepper and remove from heat.
Heat a grill pan or outdoor grill to medium heat.
Cut the Kielbasa into three sections about six inches long and cut each piece in half the long way. Lay out in a dish or platter and brush with the remaining tablespoon of oil.
Grill for about three minutes per side or until hot and nicely marked.
To assemble, place two slices of Swiss cheese in each roll, top with onion and sauerkraut mixture, add two grilled Kielbasa halves and top with the White Barbecue Sauce, or serve on the side as a condiment.
---
You may enjoy this other recipe made with KING'S HAWAIIAN® bread:
Hawaiian French Toast with Pineapple and Mascarpone